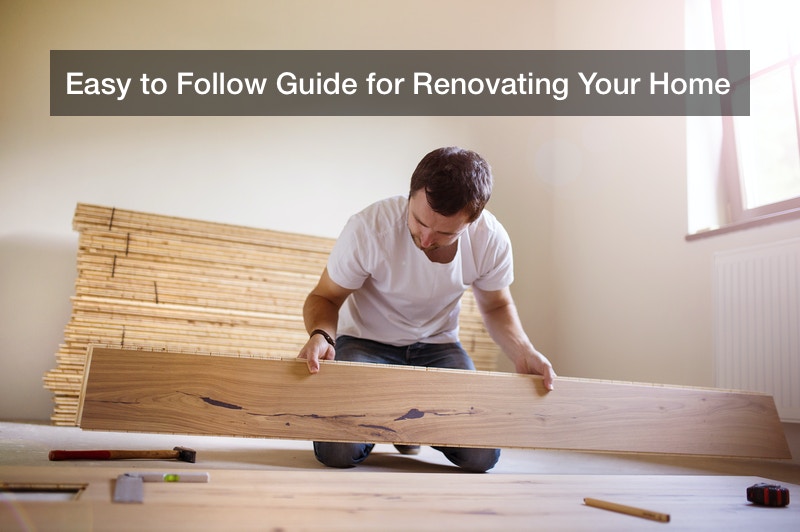 Easy to Follow Guide for Renovating Your Home

This easy to follow guide to renovating your home is ideal for both the novice and the experienced home renovator. Home renovation is a very popular activity in the United States. The average homeowner plans on investing about $10,000 in home renovations.
Whether you plan on some kitchen remodeling or you are like 35% of remodelers and you are going to do a whole home renovation, this guide to renovating your home can help. This guide to renovating your home will prepare you for what to expect and help you get through the renovation with ease.
Why Renovate Your Home?
Home renovation, upgrading, and remodeling are great ways to improve your living conditions and increase the value of your home. Home styles become outdated, systems become aged, and things can always be improved. Improving your space can improve your lifestyle.
Many homeowners are motivated to renovate their home because it simply does not support their lifestyle. Other homeowners are renovating to improve the aesthetics of their home, and still, other homeowners are renovating to specifically improve the value of their home.
There are many reasons that people choose to renovate or remodel. Your home is likely the biggest investment you will ever make. Investing in it by keeping it up to date, and adding value is a great way to protect your investment.
Whatever your reason is for renovating your space, this guide to renovating your home, will lay out a step-by-step process to ensure that you get the results that you want.
First Step: Make This Decision
This is the era of DIY. It seems that everyone is slinging hammers, repairing plumbing, doing their own landscaping, and more around the house. Your first mission in renovating your home, is to decide are you going to DIY it or will you leave it up to the pros?
Of course, it does not have to be a case of totality either way. You can DIY part of the project than hire on the pros for other parts. Most homeowners decide that at least part of the project will be left up to the professionals.
Taking on at least part of the project as a DIY project is a good idea because it will help to cut out some costs, but it will likely add some time to the project. Rolling up your sleeves and doing some of the work may sound like a great idea, especially when you consider the savings, but you do have to consider the time factor.
Ask yourself these questions when you are making your renovation work plan:
Do I have the time to invest in the work that needs to be done?
Do I have the skill set to do the work?
What can happen if I make a mistake?
No one is discouraging you from participating in the project, but you do need to consider whether the savings are worth the effort. For example, if you work a 50 hour work week and you want to take on part of your bathroom remodeling, will you have the time to invest, or should you just let the bathroom remodeling service handle the entire job?
One of the best tips to follow in this guide to renovating your home is to keep in mind that time is currency. The longer the project takes to complete, the more frustrated you will become. Home renovation is really a balancing act between what you want for your future and what you need for right now. Living with an unusable bathroom for any length of time can affect your quality of life right now. While patience is a virtue in home renovation, you do not want the remodeling scene to carry on for months.
Be realistic when you are deciding how much DIY you have to offer to the project and know your limits. If you are not very experienced in plumbing work and you are remodeling the bathroom, hire plumbers to handle the heavy work.
If you do not mind giving it a try, and then having to call in an expert after the fact to correct any errors, then, by all means, hold off on calling in the electrician until you need them. You get the idea, do what you can, and leave the rest up to the professionals.
Do the easy parts. A simple solution to the conundrum of what DIY part should I take on is to do the easy parts. For example, landscaping on your own is easy. About 35% of homeowners are doing their own gardening. Hanging drywall is really just a matter of cut and hammer. Painting is also an easy part of the project.
Doing even simple things can save you some money and help you to have a hand in the project. If you are new to DIY start out simple, and before you know it you will build confidence and be ready to take on bigger projects on your own.
Step Two: Hiring The Professionals
Rarely has a person not heard a renovation nightmare story about contractors that leave half-finished work or that deliver work that is so shoddy it is painful to look at. One of the most important parts of your renovation project is taking the time to do your research before you hire anyone.
Whether you need some roof maintenance or you need an entire roof installed, or you are looking for a team to do some asphalt paving in the driveway, the rules are always the same. A big chunk of the guide to renovating your home with success comes down to who you hire.
Here are some mistakes homeowners make when they are hiring workers to manage their renovation:
They shop by price and not by value. The low ball offer may seem like the gift you have been waiting for on Christmas morning, but the fact is low price does not always equal the best value. A skilled craftsman knows their value and delivers quality. A too low price can be a warning flag that you are dealing with an inexperienced team. Shop by value not by price.
They cut corners when it comes to due diligence. There is no easy way to pick a contractor for your project. You have to research to ensure that the contractor can deliver the level of expertise that your project needs. Read reviews, collect references, take a look at the contractor's portfolio. Don't just go by what the contractor tells you they can do. Ask questions and get confirmation that they can.
If thinks seem fishy, don't let the project continue. Many homeowners that have renovation horror stories will admit after the fact that they knew something was not going right with the project, yet they let the project move forward. If you think that a contractor is not doing something right, or they start becoming unreliable mid-project, fire them, and fight it out in court. Yes, it can be expensive to lose the money you have already paid into the project, but there is no sense in throwing good money after bad. Cut your losses and stop the project before you get in any deeper with a shady contractor.
Ask anyone that you plan on hiring if they are licensed and insured. Hire only legitimate businesses. Before you make any hiring decisions get at least three quotes for the project, and be sure to read any reviews and check out the businesses Better Business Bureau rating.
Avoiding disappointment and problems with the project starts by doing your due diligence. Whether it is roofers or floor experts you have to make sure you are hiring the professionals that can get the job done.
Step Three: Doing Your Part to Make the Project Go Smooth
Even if you are not planning on DIY'ing any part of your project there are things that you can do to make your project move along nicely. The very first thing you need to do and some very important advice in this guide to renovating your home is to prepare yourself mentally for the project and prepare your family.
It is especially important during a whole home renovation that everyone in the family is mentally prepared for the stress that is about to ensue. Explain the plan to your family and give them a timeframe of when the project is expected to be done.
Do yourself a big favor and do not plan any other big life events during the renovation period. For example, now is not the time to plan a wedding. You want to give the renovation your full attention so things can move along quickly.
Make it easier for the work to get done by:
Clearing an easy access path for workers. If you are having work done on the roof, move things away from the side of the house to make room for the ladders. If you are having hardwood flooring installed, clear the furniture before the workers get there. Making it as easy as possible for the workers to do their work will help to ensure the project can move quickly.
Keep everyone out the way. If you have kids talk to them about staying out the way of the workers. Any distraction is a bad distraction when it comes to working in your home. Keep everyone out the way.
Make firm decisions. There is nothing worse than getting a project near done and then having to change course. It can add months to your project and a lot of costs. Make sure you take the time to pick the materials.
Guide to Renovating Your Home and Cost Savings
We already touched on how you doing part of the work can be cost savings in your renovation project. How else can you save on the project? Materials can get costly especially if you are going for a custom look. Evaluating your material options can help you to find some savings.
While hardwood floors are beautiful and a great way to add value to your home, maybe a really good laminate can give you the same aesthetic at a fraction of the cost. Instead of going with the quartz countertops, maybe you can get a look that you will love from concrete. Evaluate all your material options to find some savings.
Another great way to save on renovation projects is to ask for the savings. That's right, ask for the savings. Negotiation with contractors to get a better deal on the project. Ask the contractor what you can do to get a better price. You may be pleasantly surprised to find that many contractors are willing to work with you when it comes to price all you have to do is ask.
Take advantage of off-season savings. There are two times a year when business is booming for companies that specialize in home renovations. The spring and the fall before the winter holidays. Who says you cannot have your bathroom done in January when every other homeowner is nursing financial wounds from overspending on the holidays?
With proper financial planning you can take advantage of these off-season times to get the renovation work done when contractors have less work. How much can you save during off-peak seasons? According to the experts, you can realize as much as a 25% savings by simply having the work done in the dead of winter or the hottest part of the summer.
Take advantage of any promotions or discounts that are offered. For example, many companies will offer a military discount for those that have served our country. Some companies even offer discounts to teachers, first responders, and seniors..
Propper planning, negotiating, and taking advantage of discounts and promotions can all add up to pretty great savings. In many cases, you do have to be willing to ask for discounts or if any promotions are happening. Always ask.
This guide to renovating your home has laid out the basics that every homeowner should follow. Following this foolproof guide to renovating your home will help you get through the process and have the space that you visioned.