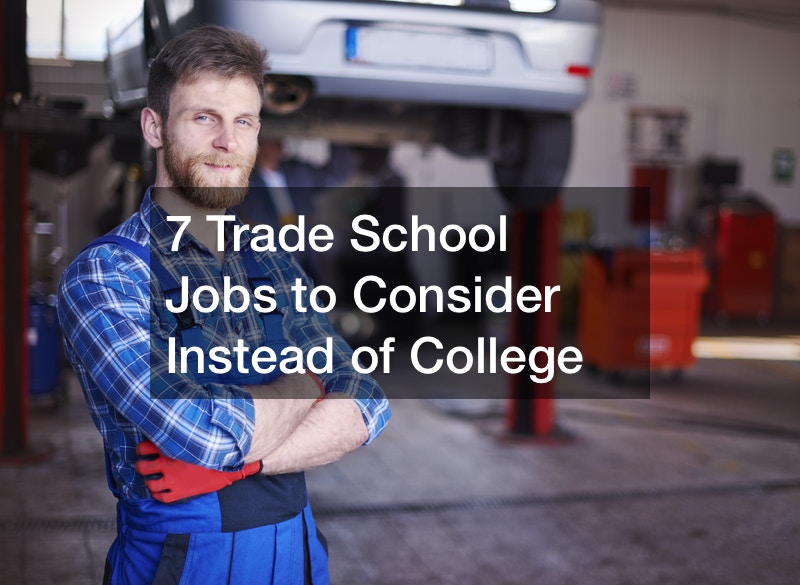 7 Trade School Jobs to Consider Instead of College

Going to trade school instead of college is becoming increasingly popular among young people and it's easy to see why. Not only do many trade jobs provide more security than other paths, but they can also result in much less debt accumulation than a college or university. Furthermore, jobs are much easier to come by in these fields as they are always in high demand. If you're thinking about going to trade school instead of college, here are seven trade school jobs you should consider.
1. Plumber
A career in commercial plumbing is one of the most secure and high-paying trade jobs you can choose from. No matter where you are or where you go jobs won't be hard to find. There is also a shortage of plumbers to work on newly constructed buildings due to the increase in building within the last couple of years. Because of this, plumbers are in high demand and those with specific specialization even more so. For instance, plumbing engineers can work alongside civil engineers when it comes to restoring or installing plumbing systems outside of buildings for stormwater, gas, sewer, or fire suppression.
Working for a commercial plumbing service can also allow you to take part in a career that keeps you moving, as opposed to being stationary in an office all day. This is something that many plumbers enjoy about their jobs most, and it helps ensure that it doesn't get monotonous. Similarly, plumbing has many specializations such as pipelayers, pipefitters, steamfitters, and gas technicians which can allow you to further improve your resume. Specializing in specific areas can also help increase the amount of work you are qualified for and increase your job security even further, although most plumbers will never have to worry about being without work.
When it comes to choosing to go to trade school instead of college, plumbing is one of the top career choices you can make. It has everything many job seekers want; stability, good pay, and the ability to always be able to find a job no matter where life may take you.
2. Automotive Mechanic
Automotive mechanics is another fast-growing field that is highly in demand. Next to plumbing, this is one of the top career choices for those who choose going to trade school instead of college. Auto repair services will always be needed, and because of this, the field has quick income growth with very competitive pay. Similar to how plumbing can offer a fast-paced on-the-go job, no two days in automotive repair services will ever be the same. This variety helps keep away the monotony and it also keeps you on your feet as opposed to stuck in an office chair.
The median starting salary falls around $30,000, but it can grow quickly. Some mechanics who excel can even earn up to six figures. Couple this with the ability to work hands-on with the latest technology in vehicles and it can be both exciting and rewarding. Auto technicians who work at new car dealerships will especially be working with the latest models and knowing your way around new vehicles can make you even more desirable for hire. Similarly, specializing in antique cars can also benefit you, especially since many enthusiasts and collectors are willing to pay large sums to keep their vehicles in pristine condition. While new cars will benefit from knowing about the latest technology, knowledge of vintage cars can be hard to come by. Choosing to specialize in one can take you down many exciting career paths.
Going to trade school for automotive repair can be a great and interesting path, especially if you already have a love of cars. Even if you don't get excited when you see a 1969 Boss 429 Mustang driving down the street, this can still be a great and rewarding career choice. One that can also offer a lot of stability and interesting work on the job.
3. Electrician
When considering going to trade school instead of college, electrical work is something else to consider. Just as plumbers and mechanics will always be needed, so two will electricians. Working with electricity, without the proper training, can be dangerous. This means that no just anyone can do it. Electricians also have the ability to specialize in different areas including residential, commercial, and line work. Specializing in any of these areas can bring further job security to an already quite secure profession. Electrician work can also offer diversity in daily activities and allow you to travel to many different job sites. You'll also have the ability to work both inside and outside, meaning you don't have to worry about spending your days in a stuffy office.
Electricians are also highly respected among the trade fields and by becoming one you have the chance to establish yourself in a growing and widely admired area. Many electricians also go on to start their own businesses with relative ease. All you need after obtaining your license is the right supplies, transportation, and a couple of referrals. With that, you can start building a name for yourself in your community and start taking more and more jobs, maybe even hiring or apprenticing other electricians in your area.
When it comes to going to trade school instead of college, electrical work is something to consider if you want a rewarding job with a lot of potential and room for growth. Additionally, like the above options, it can also provide a great deal of job security and stability.
4. Building Contractor
Building and construction are highly in demand and whether you work commercially or residentially there is potential for a lot of growth. Becoming a qualified contractor can be a challenge, however, especially when compared to the above options. That said, for those interested in building it can be one of the most rewarding. Contractors are expected to know local rules and building regulations, in addition to having solid relationships with vendors, suppliers, and subcontractors. The latter can take time to build, which is why establishing yourself can take time. While you won't be making a lot right out of the gate, there are benefits to becoming a contractor. This includes the potential to increase your earnings by working as your own boss and setting your own hourly and project prices. For instance, if you're offering kitchen remodeling services, you can quote your client a price that is fair for you, with no middle man. This can allow you to earn more each year than if you were employed through a construction company. Qualified contractors can also have more freedom when it comes to deciding which projects to take and what clients they want to work with. You'll also be able to schedule your own time off and have more flexibility in your life.
The only real drawbacks can include less financial stability to start off with when compared to the above options. However, this is mitigated over time by the ability to grow in your field. Licensing and bonding requirements and fees can also mean more expenses, and starting your own business — if that's the path you want to choose — can come with additional challenges. While not for those looking for immediate success, for those willing to put in the work and dedication towards their craft, this career choice can be both fulfilling and highly rewarding.
5. Welder
Welding school is another option for those looking at going to trade school instead of college. Welding is a growing field with many fantastic opportunities that should be considered. Due to the increased amount of people going to colleges instead of trade schools, there is a projected shortage of welders. The American Welding Association projects that by 2023 there will be a shortage of up to 375,000 welders. Because of this, the job demand is great, and those looking to go to welding school will be able to find jobs quickly once becoming certified. Additionally, due to this high demand for welding professionals, the salary is also higher than many other careers. Most welders can earn between $55,000 and $70,000 a year. This financial stability makes it desirable for those looking to establish a stable way of living. The more experience you gain the greater potential for earning you garner.
Similar to plumbing, auto repair, and electrical work, welding is a hands-on job that can offer a lot of work diversity and the ability to work in many different locations and industries.
In addition to this, welding is becoming increasingly popular with women, and currently, women make up 9.1% of the construction industry, with the percentage growing every year. While often regarded as a male-dominated field, welding is special in that it can require a great deal of creativity and pattern following. In fact, the Associated Builders and Contractors Greater Michigan Chapter have even found that women tend to outperform men in most welding competitions. If you're a woman considering a trade career, this is something to give a lot of thought to. Especially since women can help make up for the shortage of welders that the industry is currently facing.
6. Roofer
Professional roofing is another great field that those considering going to trade school instead of college should think about. A career in roofing allows you to be outside and constantly on the move. Roofers are responsible for installing new roofs, repairing roofs, and inspecting roofs. They may also remove debris and snow from roofs, and set up the proper scaffolding to access high areas. While not the best job for those with a fear of heights, it is an in-demand field with a lot of potential. Working in roofing can also allow for a lot of variety as you will be heading to many different houses or businesses, depending on if you specialize in commercial or residential roofs. You'll likewise be working with many different materials such as slate, tin, clay, concrete, and asphalt roofing. Although learning about these different types of roofs may seem like a steep learning curve, it's worth it to be able to situate yourself in a secure and interesting career field. The Bureau of Labor Statistics even projects the roofing industry to grow by 11% by 2026, so you won't have to worry about not being able to find work.
The ability for growth is also something that this field shares with the plumbing, automotive, and electrical industries, and after working long enough you might even be able to branch out and start your own business. The level of work consistency also makes for stable pay and secure wages that can make this field desirable to many interesting in getting into a trade.
7. Mold Remediation Specialist
A certification in mold removal is something that many people don't have, and it is a very important job to be able to do. The mold business is rarely talked about; however, this industry is invaluable when it comes to the safe removal of potentially hazardous mold. Because mold can be dangerous, this is one career that is all but recession-proof, as failing to remove mold often isn't an option. The industry is current;y valued at $210 billion and that isn't going to change anytime soon. From aging buildings to water-damaged homes and businesses, you'll find a lot of variety when it comes to mold remediation. Whether you're working for a mold removal company or you're looking to start your own, getting a certification can open a lot of doors for your career.
Choosing the Career for You
If you're thinking of going to trade school instead of college, these seven trade careers are something you should seriously think about. All of them offer varying degrees of stability, diversity, and the ability for growth. Depending on your interests, any one of them could be right for you. Speak to your local trade school to learn more about the courses they offer and take the first step towards beginning your career today.