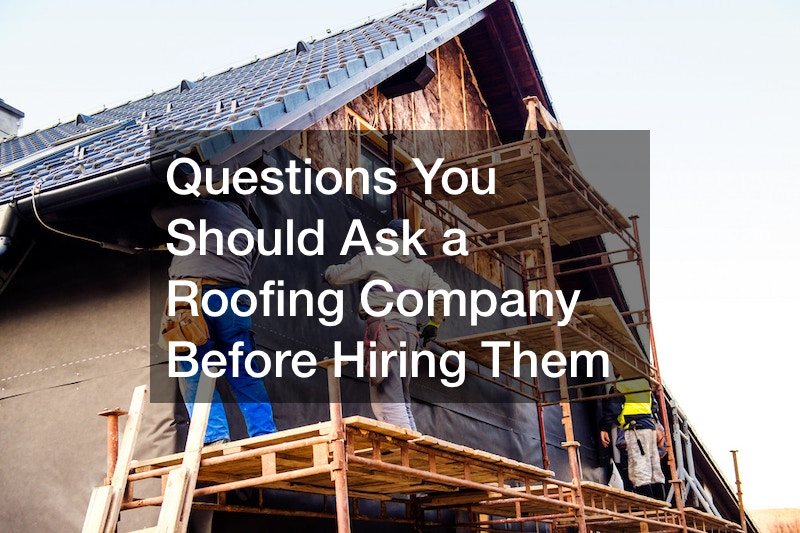 Questions You Should Ask a Roofing Company Before Hiring Them

In any trade, it is essential to consult with the seller before buying anything or getting any service from them. Consulting with them will allow you to ask questions and see if whatever they are offering is exactly what you need. It also helps weed out any suspicions you have about them. For roofing companies, it is best that you ask the roofing company you are considering asking a couple of questions to guarantee that you will get the results you asked for, be it the most aesthetic roof you could think of or a simple roof repair. Here are a couple of questions you need to ask a roofing company before hiring them:
Are You Licensed?
Installing and maintaining an aesthetic roof for homes is a complex task. You have to ensure you get the best possible professionals to do this for your home otherwise you would be presenting many risks to your family. Having a valid license demonstrates their compliance with local regulations, giving you confidence in their ability to perform quality work on your roof.
In California, for example, for a roofing contractor to obtain a license, he or she must take an exam and pass with
a score of 70% or higher1. Ask the company if their personnel are licensed to perform your needed services. Some of the services you may require, such as re- roofing services, need the contractors to have years of experience and modern roofing techniques in mind. Licensed professionals are more likely to take their work seriously by learning new techniques to keep up with trends.
Are You Insured?
As you explore your options, you must ask if the companies are insured. Insurance compliance safeguards both you and the company in the event of accidents or damage during the project. Roofing work is very unpredictable and insurance ensures that you won't be held accountable for any unforeseen setbacks.
By prioritizing insurance, reputable roofing companies demonstrate their commitment to professionalism. This showcases their willingness to take responsibility for their actions and prioritize their clients' well-being. The peace of mind created by insurance coverage allows the company and client to focus on developing an aesthetic roof without the worry of financial or legal difficulties in the future.
Do You Offer Free Estimates?
Transparency and customer satisfaction are always a top priority for world-class roofing companies. That is why many companies like to view their upcoming working sites to offer estimates and a breakdown of their procedure to clients. In your pursuit of a transformation to an aesthetic roof, it is prudent that you inquire from prospective companies if they offer free estimates. Multiple free estimates not only allow you to compare costs but also provide a clearer picture of how a company is open to communication as well as an insight into their level of professionalism.
When the company agrees to this, they might send a roofer to your property to explain how they might be of service. This means that you should be ready to explain what you want and be prepared to ask any follow-up questions should any arise. The estimate will empower you to make an informed decision that aligns with your budget and aesthetic goals.
Do You Provide Warranties?
As you contemplate a new roof installation you must delve into the warranties offered by the potential roofing companies. A robust and comprehensive warranty that covers both materials and labor demonstrates the company's confidence in its workmanship and the durability of the products used. By discussing warranty options, you can safeguard your investment in an aesthetic roof in the long run.
Furthermore, discussing warranties helps you to assess the roofing company's degree of customer service and commitment to satisfaction. A respectable organization will be open and honest about their warranty's terms and conditions, quickly responding to any concerns you may have. In the long term, a good warranty protects you financially. If any problems emerge during the warranty period, the roofing provider will be responsible for repair or replacement, potentially saving you thousands of dollars in repair or replacement fees.
What Services Do You Offer?
When commencing a roof replacement project to acquire an aesthetic roof, it is critical to consider the whole spectrum of services provided by a roofing company. While aesthetics may be your first concern, it is also critical to evaluate the company's capabilities beyond simply creating a gorgeous roof. Understanding the scope of their knowledge enables you to assess their capacity to handle potential future needs and solve any other roofing-related concerns you may have.
Inquiring about the roofing company's services reveals their areas of specialization and the breadth of their knowledge. A reputable roofing company will typically offer a wide range of services that extend beyond roof installation, such as roof repairs, maintenance, and inspections. They might also offer additional exterior services such as gutter installation or siding repairs, demonstrating their versatility and ability to provide comprehensive solutions.
Working with a roofing business that has a wide range of talents and expertise can be advantageous. It guarantees that your roofing job is part of a comprehensive approach to preserving and improving the overall cosmetic and functional features of your property. For example, if you are thinking about installing solar panels or a rooftop garden in your home, a roofing company with experience in these areas may provide helpful advice and smoothly integrate these features into your roofing system.
How Much Experience Do You Have?
When choosing a roofing contractor, it is critical to inquire about their level of experience. A roofing business with a long history of providing roofing services brings a plethora of expertise and practical experience to the table. This allows them to tackle the complexity and issues that may occur throughout your roofing project.
Roofing is a highly specialized area that necessitates a thorough knowledge of various roofing materials, procedures, techniques, and industry best practices. A business with vast experience is likely to have met a broad variety of roofing conditions, allowing them to develop effective solutions and tactics for various situations over time. When you hire a roofing company with a proven track record, you gain access to their skills to make sound decisions. Their experience gives them significant insights into the advantages and disadvantages of various roofing alternatives, allowing them to advise you in choosing the best choices for a strong and aesthetic roof.
Are You Local?
Local businesses are more likely to understand some special aspects of your area, such as the climate, architectural styles, and local building standards and regulations. Since they are familiar with your site, they can modify their services to match the specific needs and requirements of your location. This speeds up the time taken to complete your roofing project.
One of the primary advantages of dealing with a local company is its accessibility to your home. This proximity results in speedier response times in the event of an emergency or urgent repair. If an unexpected storm damages your roof, a local roof repair company can swiftly assess the situation and begin repairs, reducing the danger of future property damage. Their close vicinity eliminates long travel time and logistical issues.
In addition to speedy responses, local roof repair firms provide easy communication through face-to-face discussions. This direct and open line of communication promotes transparency and aids in the development of a stronger working connection. You can express your preferences, request project updates, and resolve any problems as soon as possible. This degree of communication helps your roofing project move smoothly and guarantees that your vision is accurately understood and accomplished.
Additionally, choosing a local company also allows you to support your community. You contribute to the growth and success of your community by investing in local businesses. Local roofing companies frequently have strong community links and aim to preserve a positive image by providing high-quality services. As a result, they are more likely to go above and beyond to ensure client happiness and retain their community reputation.
Do You Have References?
Requesting references is a wise move when considering roofing providers for your cosmetic roofing job. References give you personal information about a company's track record, professionalism, and ability to deliver on commitments. Reputable roofing firms with a track record of satisfied customers are usually more than happy to provide references upon request.
When contacting past clients, you can inquire about their general experience with the organization, as well as their level of satisfaction with the roofing solutions provided. You can inquire about the company's craftsmanship, attention to detail, timeliness, and communication during the job. Hearing directly from prior clients can provide you with useful information that will assist you in determining whether the company in question is the best roofing company to fulfill the aesthetic vision you have in mind.
Can I See Past Projects?
Requesting visual evidence of a roofing company's previous projects is an efficient way of evaluating their capabilities and appropriateness for your aesthetic roofing project. You can acquire significant insights into the company's craftsmanship, attention to detail, and ability to provide visually pleasing outcomes by reading before-and-after images and descriptions of completed jobs. It will allow you to gauge their level of expertise in services such as roof transformation, and roof repair.
When studying previous projects, take note of the roofing materials used, the design decisions made, and the overall aesthetic appeal. Look for examples that are similar to the project you have in mind. This will allow you to assess the company's ability to adapt your vision into a gorgeous reality.
Descriptions that accompany visual evidence can also provide useful context. They might highlight the difficulties encountered in each project and explain how the roofing firm overcame them. This information provides insight into the company's problem-solving talents and commitment to creating solutions that meet both aesthetic and functional needs.
Additionally, visual evidence of previous projects allows you to evaluate the company's capacity to improve the overall appeal and value of homes through its roof replacement service. An aesthetic roof can considerably increase a home's curb appeal, making it more appealing to potential buyers and raising its value. You may assess whether the company has a track record of producing roofing solutions that not only achieve aesthetic goals but also help the total value of the property.
What Materials Do You Work With?
Understanding the materials that potential roofing companies work with is essential when looking for an aesthetically pleasing roofing solution. The materials used to make your roof determine how long it will last. While some materials provide an aesthetic roof it is essential to pick the one with the longest-lasting period to avoid regular replacement fees.
If you have a certain material in mind, such as metal roofing, you should inquire about the company's knowledge and experience with that material. Metal roofing contractors with considerable expertise dealing with a variety of metal roofing materials can provide valuable insights and advice. They may make recommendations on the best solutions that match your aesthetic preferences while also taking into account key considerations like durability, energy efficiency, and long-term value.
Working with a contractor who is familiar with metal roofing materials has additional advantages. They are likely to have established contacts with suppliers, allowing them to obtain high-quality products at reasonable pricing. Aside from that, a skilled metal roofing professional can advise you on the performance advantages of various materials. They can explain the qualities of various metal roofing solutions in terms of durability, weather resistance, and energy efficiency.
It's always a good idea to consult multiple roofing companies to get the best roofing services you can acquire. Choosing the appropriate roofing firm for your roofing project can have a big impact on the overall appearance, value, and protection of your home. You position yourself to make an informed choice that corresponds with your vision by asking the correct questions, such as those about the license, insurance, estimates, warranties, services, experience, area, references, former projects, and material knowledge. Installing an aesthetic roof is about more than just improving the exterior of your home; it's about putting your trust in professionals who prioritize your goals and offer expertise at every stage of the process. You can confidently embark on your journey if you do deliberate inquiries and extensive investigation.