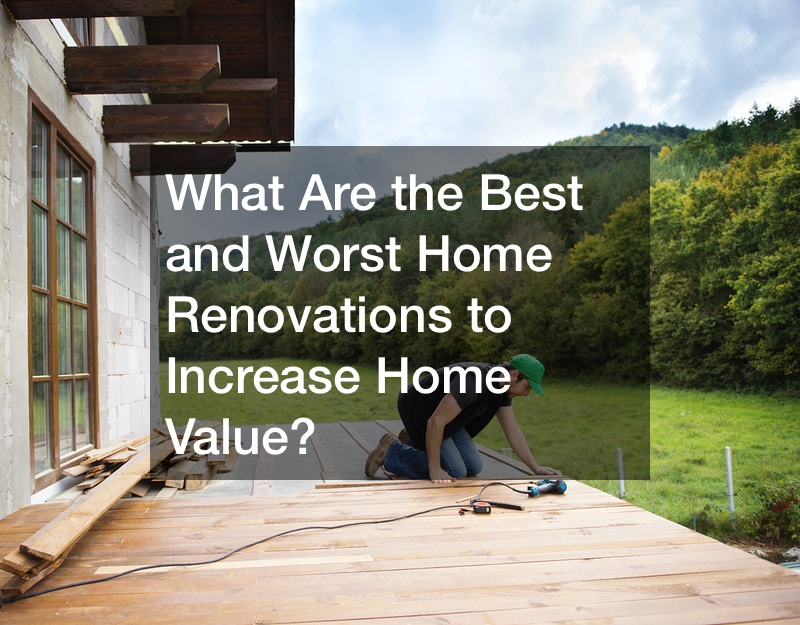 What Are the Best and Worst Home Renovations to Increase Home Value?

Making home improvements can be a great idea if you want to make extra money when you sell your home or improve your home's value. But what are the best and worst ideas for renovations? The answer depends on the individual homeowner, their budget and skill set, and their plans for the house in the future.
When deciding what to renovate, there are many things to consider. How significant will the increase in value be if I do an addition versus a kitchen overhaul? How often do these projects need to be done? What will the before and after look like? Home renovations are great ways to add value to your home, but many people don't know the best renovations to do, depending on where they live. Particular home renovations will generate the greatest return on your investment and others that won't.
It is essential to consider the long-term value of any renovation before you invest. Major renovations, such as adding a second story, should positively impact your home's value. But some renovations fall into the 'don't bother' category. This article will examine both types and offer tips for choosing wisely.
The Best Renovations that Add Value to Your Home Bathroom upgrades
A master bathroom remodel is among the best way to increase value of your home. It can help boost the value of your home and make it more appealing to future home buyers. Upgrading to a new bathroom can completely transform your space for the better. Bathroom upgrades are an excellent way to increase your home's value and make it more appealing to future homebuyers. Each of these renovations adds value in a different way, and the right ones depend on the state of your bathroom, the layout of your master suite, and your personal preferences.
Add value to your home and update its style with a bathroom remodel. When you're planning your bathroom enhancement, consider making one or several of these changes to create an efficient, well-equipped space to serve your family for years to come.
Converting a tub into a walk-in shower adds space and functionality to bathrooms of any size. A wall-mounted or ceiling-hung grab bar can help make the shower safe for everyone in your family who needs some extra support. Try installing a shower seat or bench to make it easier for aging parents or children with disabilities, and lift attendants to bathe without stress on the body.
Kitchen Upgrades
So you've recently purchased a new home and are looking for ways to increase the value of your investment. Most buyers want modern, upscale kitchens that offer more space for both cooking and entertaining. And with high-end appliances, kitchen cabinets, countertops, and flooring quickly adding to your list of expenses, it may feel like this task is becoming increasingly out of reach. Don't lose hope in making your kitchen the tastiest room in the house—with small or major kitchen upgrades; you can build the perfect kitchen without breaking the bank.
Your kitchen is the heart of your home, a gathering place for friends and family. Improvements to your kitchen can dramatically increase the value of your property. While minor upgrades such as replacing faucets and adding new hardware are affordable ways to give your kitchen a facelift, more extensive remodels, including adding square footage, windows, or extra seating, can add to the resale value of your home.
Whether you're inspired to add a backsplash or replace all of your cabinets, major kitchen renovations allow you to create the kitchen of your dreams and add potential resale value to your home. Kitchen remodeling is a relatively low-cost way to add value to your home, as long as you don't overspend on the project.
Floor Improvements
Your home's floor is the largest surface area in your space, and what you place there can affect how you live. There are many flooring options, each type with its own unique benefits, and determining which option is best depends on what you need. Below is a chart that shows common flooring types, the materials' best attributes, the best usage of each one, and overall cost.
There are four main types of flooring materials— hardwood flooring, engineered flooring, vinyl, and tile—and they each have unique benefits. Wood is warm, natural, and warm. Engineered flooring materials are entirely waterproof, easier to install, and come in a greater variety of woods and finishes than other materials.
Flooring can be an expensive investment. Even so, experts recommend getting the best flooring you can afford because it will have the most significant impact on your house. This depends on your budget and lifestyle. Engineered wooden floors, vinyl, and ceramic/ porcelain tile are common choices, but they are all different types of flooring with different pros and cons that you should consider before deciding which one is right for you.
Smart Home Automation
Smart Home Automation is the integration of several devices into your home so they can function together more effectively. This is being integrated into more and more homes, boosting value by 3% to 5% on average. The majority of this growth is attributed to the increased popularity of smart thermostats, smart security systems like cameras and doorbells, and smart smoke detectors.
A smart home is a home that's been outfitted with smart devices like thermostats, doorbell cameras, and more. These are devices that use automation to control a variety of functions around the home.
Smart home automation devices are fairly common these days, with some models capable of controlling your entire home. Smart thermostats can be controlled from your phone or computer and help you save on energy costs by monitoring air quality and other factors to adjust temperatures and reduce heating and cooling costs.
Do you want someone to let you know if there is smoke or carbon monoxide in your house? There are canisters for each of those possibilities that can alert you when something is wrong. Won't it be nice when you arrive at home to have your lights automatically turned on or be able to see around your home using night-vision mode? All of these smart devices make your life easier while increasing the value of your home.
Window Replacements
Window replacements are usually a part of these home improvements, since windows are the main source of natural lighting and ventilation. A window replacement is a personal and a substantial investment, so it's important to understand how you can replace your own home window before making the decision. Windows provide ventilation, solar heat, and protection from bitter cold, rain, and wind. If your home's windows are cracked or not providing the right functionality, it might be time to consider window replacement.
Painting
Painting is one of the most cost-effective ways to update your home's interior or exterior—and it's one of the easiest projects you can tackle yourself or through the services of a paint contractor.
Are you decorating for a change in season? Or maybe you're selling your home; choosing new paint can be exciting as well as overwhelming. Either way, it's an excellent opportunity to give your home a breath of fresh air and make it feel like home again. If you need to repaint your roof, you can contact a roofing service to help you do it.
Landscaping
Landscape design is the process of developing and refining a property, in terms of space, structure, and aesthetic appeal, with landscaping. Many professionals work in landscape improvement businesses, such as a tree arborist and gardener.
Landscaping is how we shape our natural environment using plants, rocks, and water in the form of streams, ponds, and lakes. Some other forms of landscaping are landscape design, yard design, and Arboriculture. While carrying out landscape designing, you can involve septic clean out services to ensure that everything runs smoothly.
Furnace repair
This is an important service that ensures that you will heat and cool your home to keep it comfortable. A furnace repair technician can be called by an owner or a landlord when there is a problem with the furnace or if there needs to be preventative maintenance before problems occur. Furnace repair for home improvement is not an optional service for people who want to maintain their homes.
Worst Home-Improvement Decisions You Can Make Adding a Pool or Hot Tub
Adding a swimming pool to your backyard is a great way to cool off in summer and have some fun. But pools are expensive, complex projects that can get stuck in your budget. If a backyard pool is going to pay for itself, you need to live in the hottest climate and maximize the value of your home.
Backyard pools are prohibitively expensive—especially since they lose 15% of their value during the first year you own them, according to HouseLogic. If it's a question of money, consider designating a part of your in-ground yard as a garden feature like a koi pond or reflecting pool instead. Pool pumps and heaters can be plugged into an outdoor GFCI outlet; there are even floating pool lights you can stick to the surface for an illuminated nighttime swim.
Installing a Sunroom Addition
A sunroom greatly benefits from careful planning even more than a traditional patio, living room, or bedroom. An extra 40 to 50 percent in windows can mean high costs. Those who have added a sunroom or solarium know that it can provide a comfortable and beautiful new space for your home. But there are also some potential drawbacks, particularly when you extend your home beyond its original footprint.
Just like adding a room to your house can be costly, adding a room to your patio can get expensive, too.
Building Spaces for Your Hobbies
Your home may be your most valuable investment, but that doesn't mean it has to be expensive or impossible for you to enjoy. When you make a home theatre in your den or media room, you create a space where you can relax, play games, and watch movies without disturbing others. Not only is the finished product stunning once installed, but the process is also affordable and straightforward.
Dedicated hobby rooms can be a turn-off for buyers who may not be interested in the same things you are interested in. It would be best not to spend too much money on hobby rooms that may negatively impact the resale value of your home.
Expanding or Adding to a Garage
Garages today serve a lot of different uses, and it is essential to find one that works for you. Reclaim this valuable living space by keeping only what you need to enjoy the garage most often, such as workspace and storage, while removing everything else to make room for your pride and joy. Using the garage for purposes other than the intended one may negatively impact its resale value.
Master Suite Shenanigans
While it's easy to get carried away renovating your home specifically for the purpose of resale, you may want to curb your enthusiasm. That's because a significant overhaul can often reduce your final sale price by as much as 40%.
High-End Upgrades to Your Kitchen or Bathroom
One of the biggest mistakes that home improvement projects can make is opting for the most expensive finishes, commercial-grade appliances, and extra bells and whistles. Remodeling magazine has data that shows that an average kitchen remodel (with an average cost of $25,000) will see a lower percentage return than a mid-range kitchen remodel (average price of $75,000).
Home improvement projects are designed to make your home more valuable, but the outcomes are often very different from what you expect, primarily because of 'curb appeal.' These home improvement projects will likely prove one of three things: Either these home improvements save you a lot of time and money every day, or they'll end up costing you more than the back-breaking effort to complete them, or some of them may, in fact, make your home less valuable.