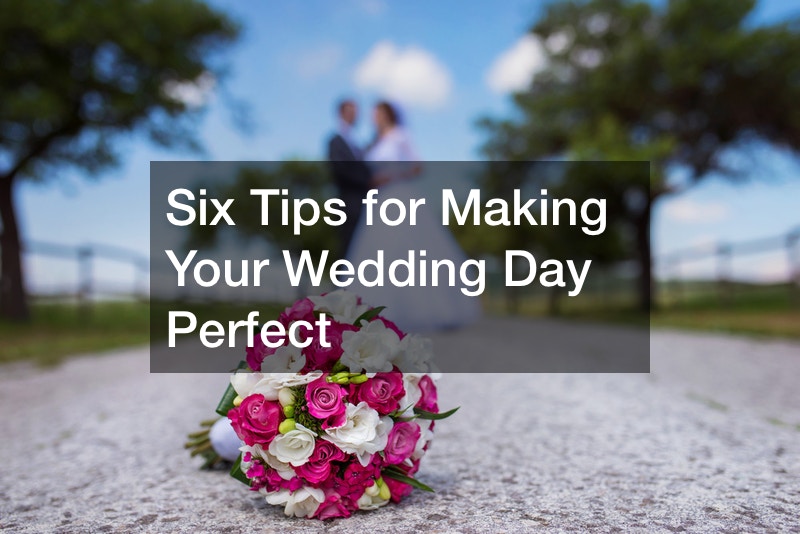 Six Tips for Making Your Wedding Day Perfect

Your wedding day is one of the biggest days of your life. Inevitably, this means that many of us put a lot of pressure on ourselves to create the perfect wedding day. Now, rest assured: as long as you're marrying the person that you're meant to be with, emotionally your wedding day will be well worth it. But let's be honest — there is more to a wedding than simply getting married. If all you wanted was to get married, you would have a simple courthouse ceremony and call it a day.
Your wedding day is meant to celebrate your love, and it gives you the opportunity to do so with your close friends and family. Yet as with any major event involving a lot of people, there are certain things that you need to get done in order to ensure that your wedding day is perfect. This is why it's generally recommended that engaged couples put together a wedding day preparation checklist.
Even putting together a wedding day preparation checklist can be a bit daunting, however. For most of us, a wedding is a once-in-a-lifetime experience, and you probably don't have a lot of experience with planning other people's weddings. Everything from the early planning process to the day that you walk down the aisle needs to be carefully plotted out. The more you think ahead, the easier it will be for you to enjoy your wedding day with as little stress as possible. With that in mind, let's look into some of the top tips we can offer for making your wedding day perfect.
1. Secure Your Venue Early
After you get engaged, your impulse may be to start looking for wedding ensembles. However, you should begin your wedding day preparation checklist by looking into wedding reception venues. This is because good wedding reception venues can be difficult to find, and often get booked out far in advance. Typically, the amount of time in advance that you need a wedding reception venue is dependent in part on when you want to get married, as well as where.
Obviously, the bigger the city that you're getting married in, the more venues will be available. However, competition may still be tight for the most in-demand venues, especially if you're getting married during the most popular wedding seasons (typically spring or late summer). Usually, we advise that you book your venue at least 12 to 14 months in advance of your wedding day.
Keep in mind that most venues require a security deposit, which is often non-refundable. You should look into how much your venue's total pricing covers. Some venues will provide items like linens, tables, and chairs; others will bundle in catering or other services. Typically, a wedding reception venue that offers package deals like this is a better value than a venue that doesn't offer any add-ons. Nonetheless, you need to make sure that you actually want the add-ons that the venue is offering.
Of course, some people might not want to get married at a standard wedding reception venue at all. But hosting your reception at a designated venue is often easier than preparing your own property or backyard, for example. You won't need to worry about issues like landscape design and installation, and you can par down your wedding day preparation checklist a bit more easily.
2. Choose Your Menu
Perhaps one of the more exciting aspects of making your wedding day preparation checklist is selecting your menu. As previously mentioned, some of this may be determined by the wedding venue that you book, if you decide to select a package that includes food services. Otherwise, you may need to work with a separate catering company, though you'll need to ensure that your venue allows this option.
Some venues require that couples choose in-house catering packages, which will often include clean up services as well (you won't need to worry about cleaning food up off of a venue's epoxy flooring, which can be a major relief). Other increasingly popular wedding food options include visiting a separate restaurant or having a food truck catering for your event. These are non-traditional approaches, but you may be able to put more of a personal twist on your wedding day if you choose one of them.
Your wedding food is an opportunity for you to indulge and express yourself, but you do need to keep your guests in mind as well. Unless you choose a non-traditional option, you'll likely either have a buffet or table service. If you choose table service, your guests can indicate their food selection when they RSVP. The advantage of a buffet, conversely, is that they can load up their plates with whatever meal they would like. Either way, you'll want to make sure that your guests have vegan or vegetarian options, and that you're aware of any dietary restrictions or allergies your guests may have.
3. Purchase Event Insurance
In an ideal world, nothing bad will happen before your wedding day and you'll get married on the day of as expected. In a post-pandemic world, however, we all know that even if our relationships are solid, our wedding days can somehow be interrupted. A key component of your wedding day preparation checklist should be purchasing an event insurance plan. The great thing about an event insurance plan is that you can potentially have coverage in case something unexpected occurs.
An event insurance plan can help cover costs if your wedding needs to be postponed or canceled outright. However, it can also come in handy if other unexpected events occur. For example, if the fence company that you hire to fence off your outdoor venue doesn't arrive on the day of, the insurance plan could ensure that you don't take a financial hit. Furthermore, you may want to purchase insurance with liability coverage.
Liability insurance could help protect you if you are held liable following an injury that occurred during your wedding. This is especially handy if you're contracting a heavy equipment rental of some sort for your wedding day, or if you have a bar onsite. While an insurance plan is not the most exciting part of making your wedding day preparation checklist, it's a good choice.
4. Plan Your Wedding's Look
Once you have your wedding reception venue booked, you can begin planning out its aesthetic. Some of this will depend on your venue itself, of course. If you're getting married at a country club, you may not necessarily want the most modern look for your wedding. Again, your wedding reception venue will offer you certain components outright as part of different package deals. Your venue may offer to take care of tree trimming ahead of your wedding for you, and you might want to plan your wedding's colors to coordinate with the linens that your venue offers.
If you decide to host your wedding at home or at a friend's house rather than at a professional venue space, you may have other matters to check off on your wedding day preparation checklist. A home will not necessarily have the same natural setup for a wedding as a standard venue would. However, this doesn't mean that it can't be attractive and appealing as a wedding venue. If you know of a beautiful home available to you (for example, one with a classic modern porch design or a beautiful awning) you could potentially save money by hosting your wedding in that space.
But you may want to budget everything out in both scenarios before committing to either one. You may be surprised by how much you would spend on a wedding hosted at home. This is especially true if you plan on hosting a country wedding, where you may need to work harder to ensure that people find your venue in the first place. Something as seemingly simple as a sign installation service can add to the overall cost of your wedding quickly.
5. Be Sparing With Your Guest List
While your initial impulse may be to invite everyone that you know to your wedding (and we understand why) you need to remember that every wedding guest adds to the cost of your wedding. As strict as this sounds, part of your wedding day preparation checklist is making a guest list, and potentially parring it down if it seems too large. Typically, the average cost per head for wedding catering is $50 to $150.
Of course, there are ways that you can simplify your wedding guest list fairly quickly. For example, in this day and age, many people do not invite their coworkers to their wedding, unless they are very close friends outside of work. Additionally, you may want to think about whether it's important that you and your partner have your entire extended family at your wedding. Some people find it much easier to enjoy their wedding days if they have a smaller guest list and a more intimate event.
You could find the entire process simpler and less stressful if you not only use your wedding day preparation checklist but limit your wedding guest list to under 100 people. In this day and age, it's not uncommon for some engaged couples to have an age requirement for their weddings. While you may not mind having young children at your wedding, not everyone is of this opinion. You're not obligated to have anyone at your wedding that you don't want to attend.
6. Choose Your Wedding Party
You need to make sure that part of your wedding day preparation checklist involves choosing a wedding party, of course. While a wedding party is not strictly required for your wedding, many brides and grooms find that they enjoy their weddings more if they have a party not only there to help them, but to get them excited for their big day.
A wedding party is there for emotional support as well. They can ensure that you don't get too stressed out about your wedding day and can offer shoulders to cry on if you feel like you're becoming too overwhelmed.
For some brides and grooms, however, there can be some inherent stress in choosing your wedding party in the first place. Don't allow yourself to stress overly much about selecting the people in your wedding party. Just choose who you're most comfortable with, and make sure that they're willing to commit to the preparation steps and events that you would like them to be a part of.
Don't put too much pressure on the people at your wedding party to invest in things like expensive dresses or suits. Many brides and grooms today don't even require that their wedding party wears matching ensembles, though, of course, this depends on what you in particular want for your wedding day.
Final Thoughts
There are many issues that you need to consider as you plan out your wedding day preparation checklist. Again, it's easy to become overwhelmed while you plan out this big event. Your wedding is a major moment in your life, and something of a rite of passage.
Obviously, you'll want to impress your guests and celebrate your love fully and completely. But the reality is that your wedding needs to be what you want it to be. Don't make decisions regarding your wedding just because you're worried about what other people think.
Keep in mind that there will probably be bumps in the road, and you should be prepared to lean on others at certain points. Give yourself some grace, and remember: this is supposed to be fun! Let yourself de-stress as you prepare for the big day, and get excited about being married to your partner for the rest of your life.